Inside: A stylish and simple fall duck boots outfit + my introduction to Trades of Hope.
Last year, when I posted this duck boots outfit for spring and asked the question, 'can duck boots be stylish?', the reactions were quite mixed on the Mom Fabulous Facebook page. Some ladies said absolutely not, while others thought they were super cute.
Well, I'm at it again with the duck boots because you guys, I have been wearing them non-stop.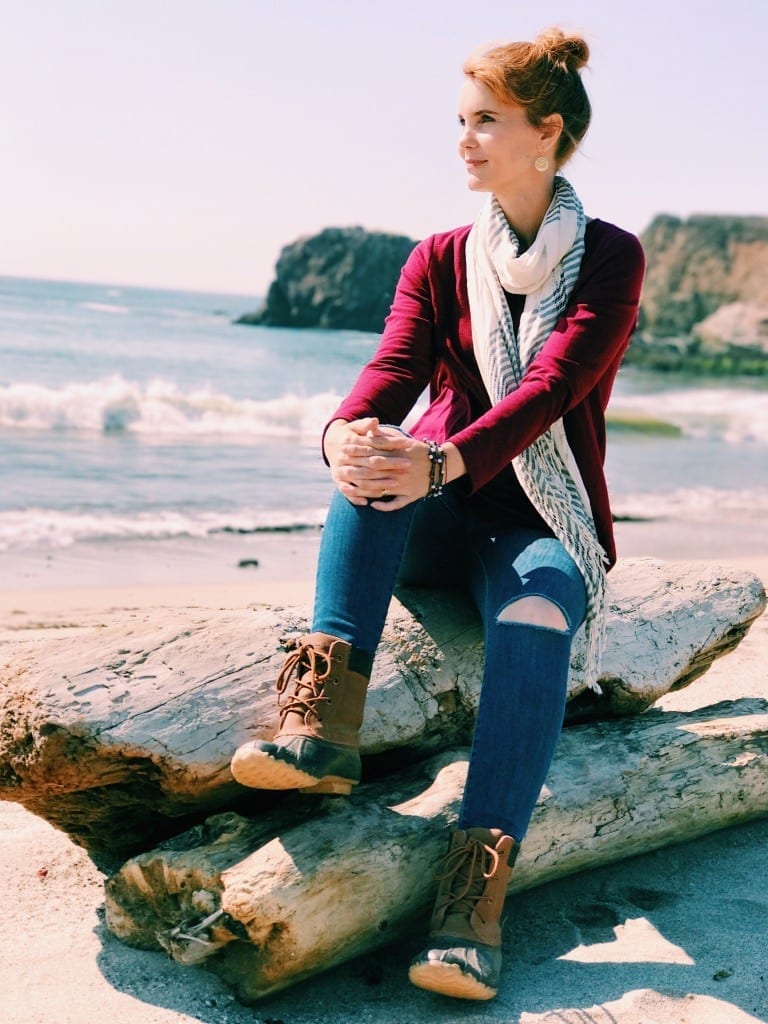 What I'm wearing:
Since I'm currently traveling along the California coast, these duck boots have been the perfect footwear for fall trips to the beach. They keep my feet warm and dry, plus they're easy to slip on and off if I decide to go barefoot. Which I do, a lot, because there really is something magical about sand between your toes. 🙂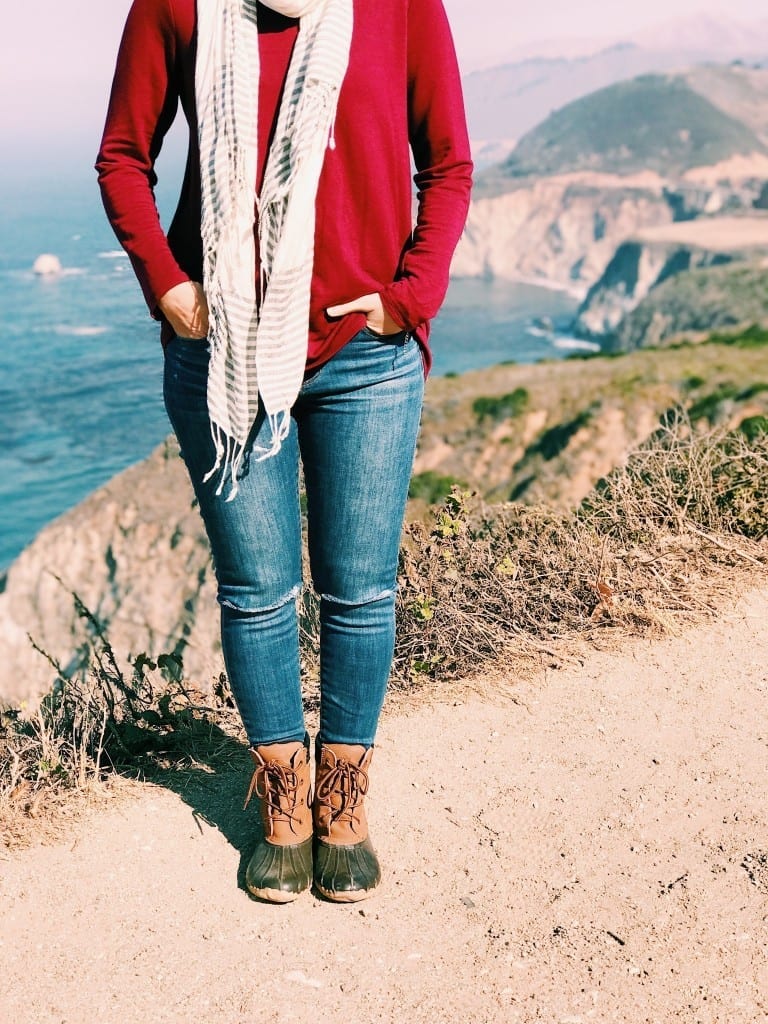 We went on a day trip to Monterey, Carmel and Big Sur California and the weather was perfection. If you've never taken the drive down the coast from Monterey to Big Sur, I highly recommend it. There were so many beautiful places to stop along the way to snap some pictures.
I'm not a photographer by any stretch of the imagination and took this photo below with my iPhone. This area gives you its best and all you need to do is whip out that phone or camera and snap away.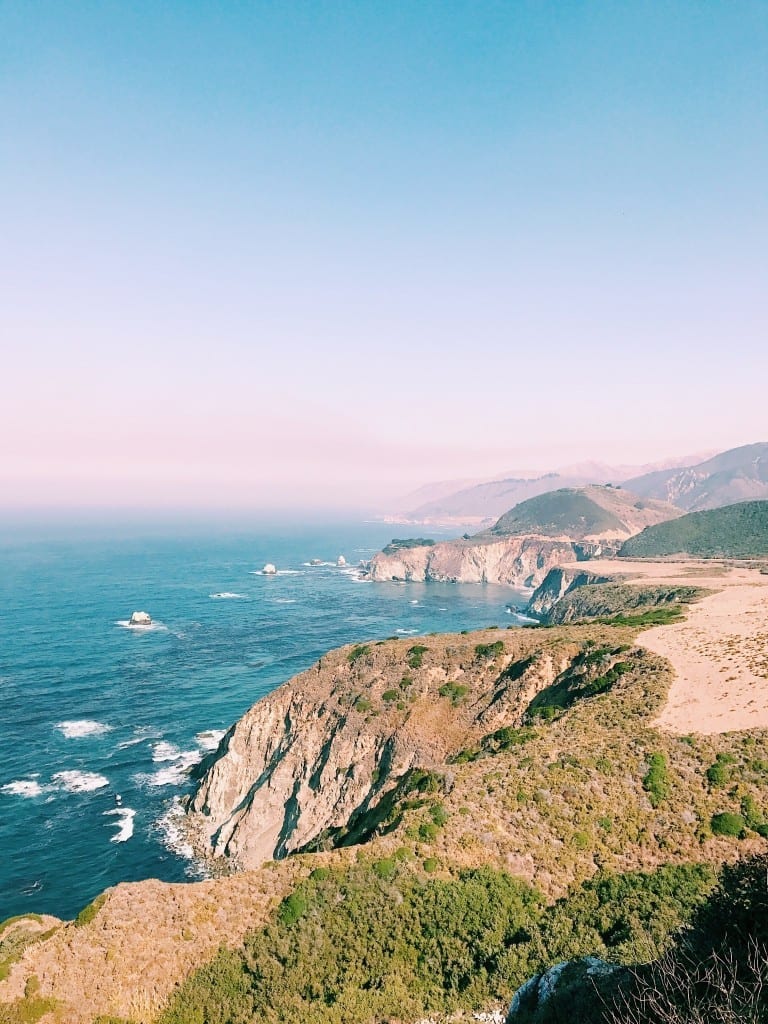 Stunning right?
Then we headed over to Andrew Morela State Park and hiked one mile to a beach area. The hike is a flat pathway and really easy to walk. It was well worth it to head to this little gem of a beach. There were a few kids in the water with their boogie boards, but mainly everyone was walking along the shore snapping photos and relaxing.
This is where we shot the pictures for this fall duck boots outfit.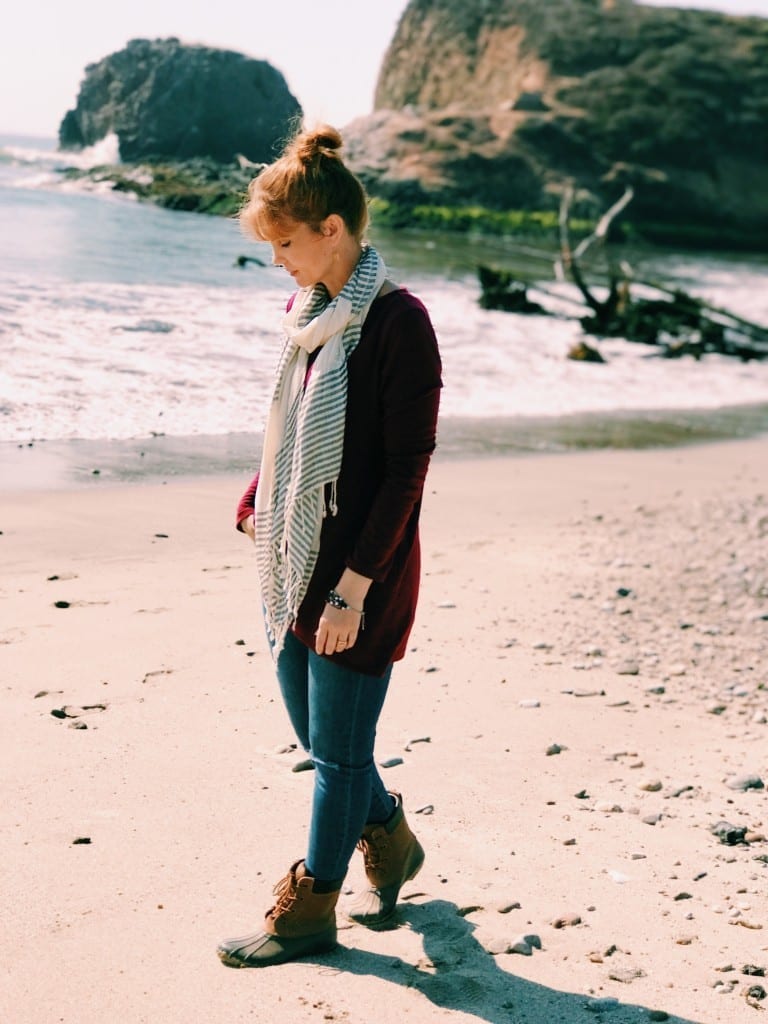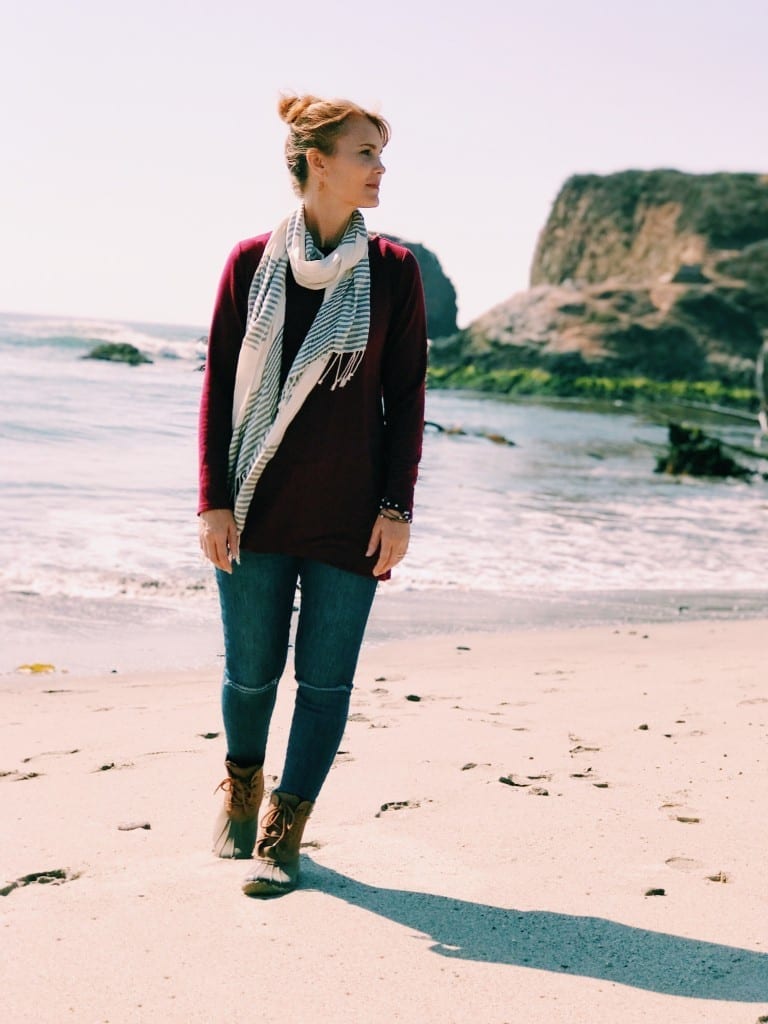 Have you heard of Trades of Hope? A friend of mine joined the company and hosted an online party the other day. I ended up purchasing a scarf and bracelet and also received earrings free with my order. I've been wearing all three items quite a bit and have been asked about my scarf more than once.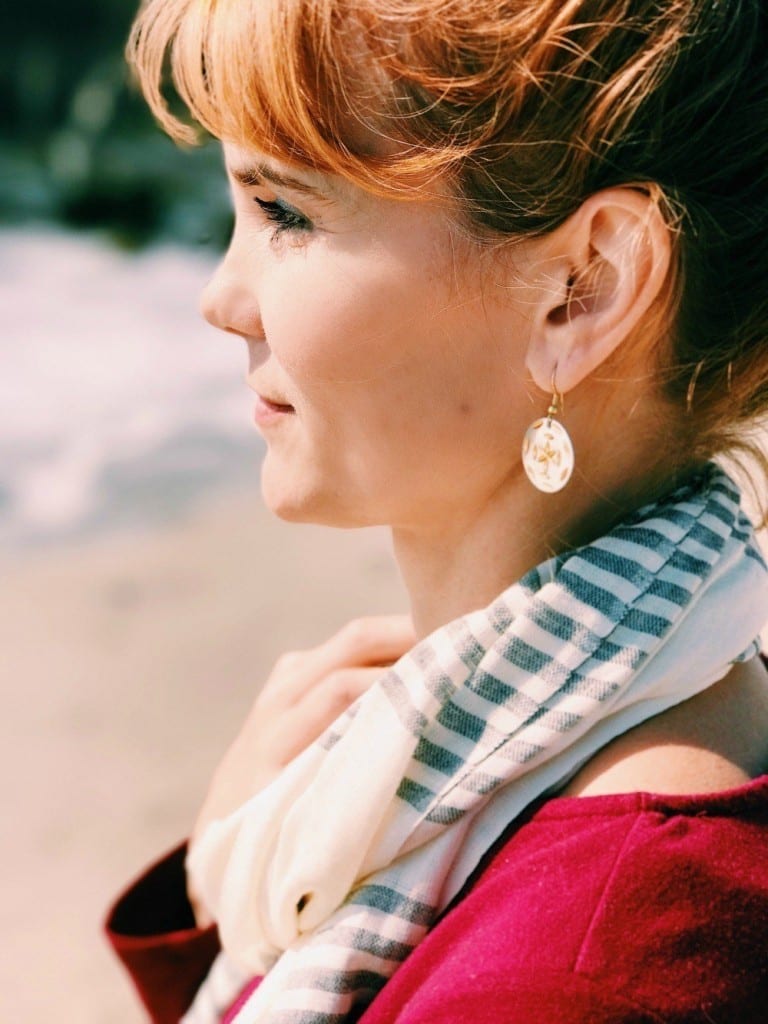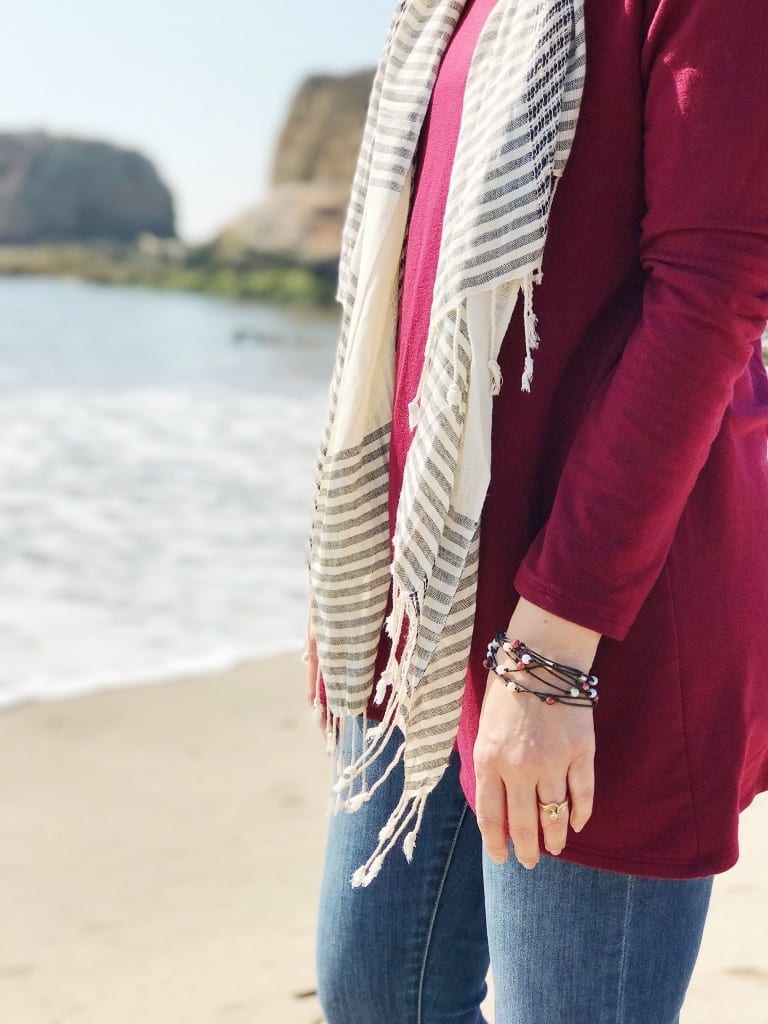 If you've never heard of Trades of Hope, their mission is pretty incredible. Which is to change women's lives by bringing them out of poverty and giving them HOPE.
As they share on their 'Our Story' page, so many women live in poverty not because they lack abilities, but because of a lack of opportunities. Trades of Hope gives these women an opportunity to use their skills so they can do things like put food on their table, get the medical care they so desperately need and provide education for their children.
Trades of Hope products are beautiful. both for their design and their purpose.
Be sure to take a look at the online shop and consider purchasing your friends and families' holiday gifts through this organization.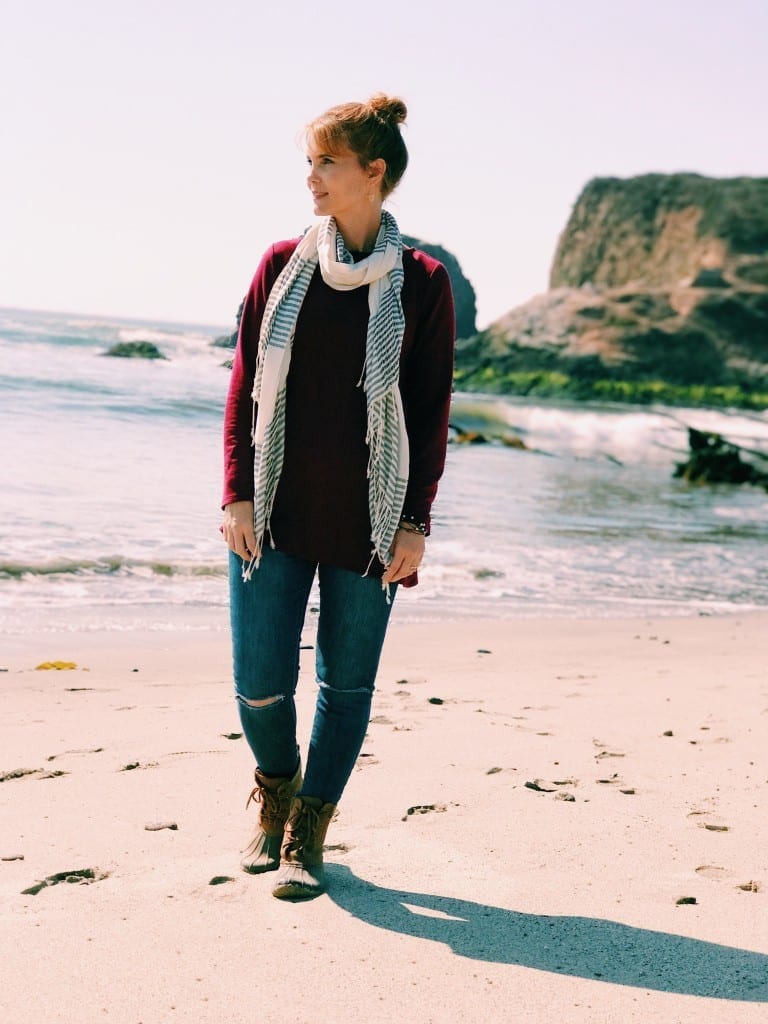 If you enjoyed this post, here are a few more on Mom Fabulous you might like: