Get the scoop on the easiest ways to make your face look thinner!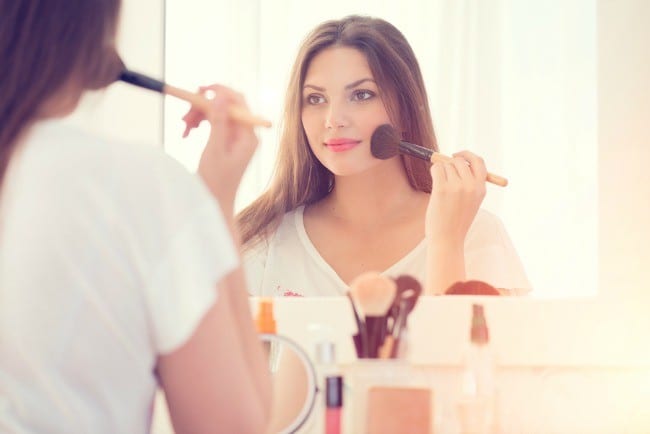 Whether you've gained a little weight and it's showing in your face, or you just have a naturally round face shape, there are quite a few tricks you can have up your sleeve to make your face look thinner. So, rather than completely stressing over it or considering something drastic, here are six hair and makeup tips that can easily make your face look thinner.
Try One of These 6 Beauty Tricks to Make Your Face Look Thinner
Hair
1) Ombre or lowlights
One of the best ways to make your face appear thinner is to dye your hair an ombre or get lowlights. The color difference creates depth and gives the face a slimmer look.
Bonus: it's a low-key hairstyle and the roots are dark, so you won't have to go every few weeks to get it refreshed. Go for a dark brunette to light blonde ombre or ask your stylist for lowlights the next time you take a trip to the salon.
Check out this page titled 'Everything You Need to Know About Medium Length Hairstyles' for some fabulous ideas on hair color.
2) Add volume to the crown
Adding volume to the top, or the crown, of your hair, is another easy way to make your face look thinner.
Just tease your hair at the crown using a wide tooth comb. Not too hard, though! Just a light tease will do the trick just fine. Keep the rest of your hair sleek and smooth for a gorgeous and slimming hairstyle.
Also try a low bun, putting your hair in a mid-height ponytail, or adding long layers.
Do you have thin hair? Read '11+ of the Best Tips to Give Your Thin Hair Volume'.
3) Parting your hair
Parting your hair to the opposite side creates a slimming effect on the face, especially if the hair has a lot of volume and wave. Just part your hair to the opposite side of where you normally do, add some texture and volume with a texturizing spray and a 1-inch curling iron and run your hands through it to create an effortless look.
Makeup
4) Contour
Of course, contour makeup is the number one way to make your face look thinner. This stuff can be tricky to master, but once you get the hang of it, it's a piece of cake.
Get a matte bronzer a few shades darker than your skin tone, and a highlighter a little bit lighter than your face. Apply the contour to your jawline and your cheeks. For the cheeks, make a puckered face and apply the contour from the center of your cheek up toward the ear, and blend. Put the highlight on your cheekbones and middle of the nose, and swipe the contour on the sides of the bridge of your nose for a completed contour look.
Elle Magazine has some excellent tips on how to master contouring.
5) Eyes, eyes, eyes!
This is your excuse to do a dramatic eye. Playing up the eyes and playing down the lips will help create a thinner face shape, so feel free to do whatever you want with your eye makeup. Eyeliner, mascara, eyeshadow, the works. Be sure to keep your lips simple with a bit of color or gloss.
Read 'How to Make Your Eyes Pop' for some tips on making your eyes really stand out.
6) Eyebrows are key
One of the most important things in making your face look slimmer is the eyebrow shape. An arched shape is much better than a rounded shape, so just fill in your natural eyebrows, but draw the arch a bit upwards to create a thinner face shape. Full and arched brows work to balance out the face and make it appear thinner.
My favorite eyebrow product is Covergirl's Easy Breezy Brows set. It's perfect for this makeup challenged gal.
Did you enjoy this article on tips and tricks to make your face look thinner? If so, here are some related articles on Mom Fabulous you might also like: