Is your hair a mess in the heat? These five tips can help keep hair healthy this summer.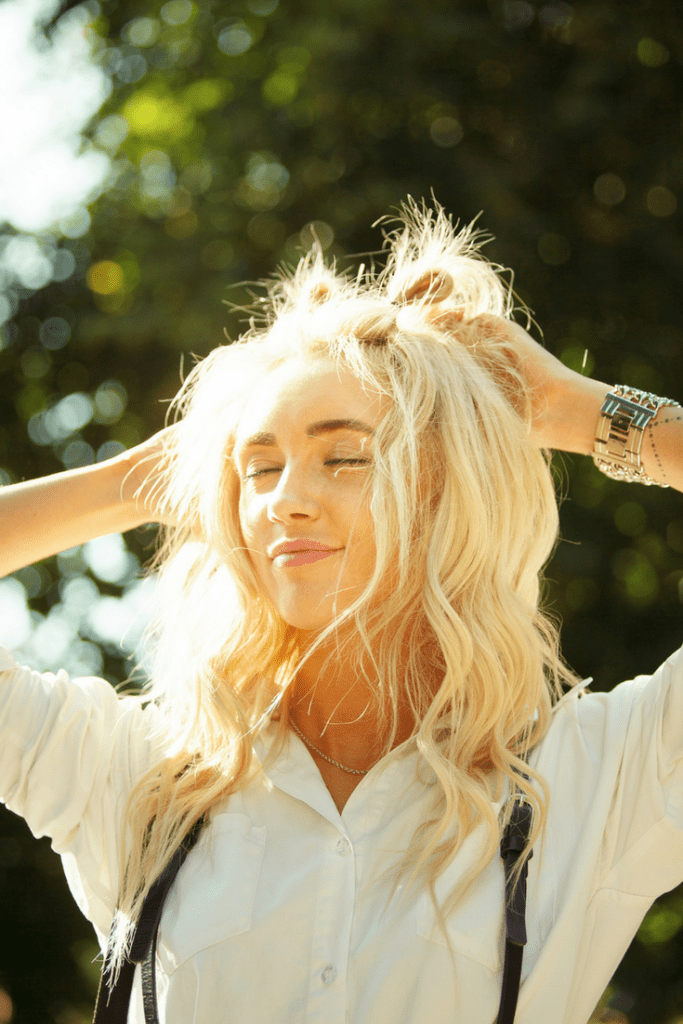 There are a lot of changes that come about in the summertime. The rise in temperature and humidity can make your skin and hair go through some pretty intense changes. In order to keep up with these changes, we have to take care of ourselves.
How? We can do that by drinking water, wearing sunscreen, and changing up our beauty and hair routines a little bit.
Today, we're going to focus on hair.
Here are five tips to keep hair healthy this summer.
5 Tips to Keep Hair Healthy This Summer
Chill With the Heat
Because hair is already being exposed to so much heat during the summertime, using styling tools that require heat will do more harm than good. It's recommended that you go in with a heat protectant spray (here's a best seller) or serum before using any heat tools.
Or, you could just try to avoid using any heat at all. This will save you a lot of trouble and damage later.
Instead, try putting your hair up in a messy bun or covering it with a scarf or headband. You can use the summertime to experiment with new styles that don't require heat, like these no heat hairstyles. Also avoid dyeing hair during the summer, as this can have the same effect as heat.
Wash Less Often
Shampoo and conditioner tend to strip the natural oils away from hair, making it more prone to breakage. This is especially detrimental in the summer because the ultraviolet light from the sun can damage hair even further. To avoid this issue, try washing your hair 2-3 times a week, and then using a dry shampoo the rest of the week, like this best selling one from Not Your Mother's.
Swimming
Pool time is significantly increased during the summer, and the chlorine and other chemicals in pool water can have some not-so-pleasant effects on hair. But luckily, there are a few steps you can take to reduce the negative effects of pool water on hair.
First, do not shampoo before you hit the pool. The shampoo + pool water will heavily damage your hair.
Next, try using a shampoo that removes chlorine from your hair like TRISWIM shampoo.
Colored Hair
If you do happen to have dyed hair during the summer, using hair products that are specially made for colored hair will help protect it from the damages of summer. Try going to a salon and asking them what the best products are for
Also, take extra precautions to cover hair if it's colored. Invest in a hair scarf or a cute hat for the summer to protect your gorgeous color.
Water
Ah yes, the magic potion: water.
As always, drinking plenty of water will aid in the protection of hair and keep it nice and healthy. Invest in a nice water bottle and try to drink half of your body weight in ounces per day.
Also, try adding fruit and veggies to your water for extra nutrients and vitamins. These will also help keep hair healthy from the inside out. While protecting hair from the outside is great, it's nothing without internal protection.
If you liked this post on how to keep hair healthy this summer, here are a few more articles on Mom Fabulous you might enjoy:
PIN THIS TO SAVE FOR LATER