The summer heat has arrived in most places and that usually means less clothing so we can all stay cool. But not every woman likes wearing sleeveless tops. So how does one dress to stay cool? Here are five summer outfits that cover your arms, are stylish and will keep you cool.
5 Summer Outfits That Cover Your Arms
We all have areas of our bodies that aren't exactly our favorites. Some women don't like shorts, while others opt for bathing suit alternatives.
I've mentioned several times that my legs are the area I struggle with the most. So you'll rarely see me in shorts and instead in light weight denim, cropped pants and skirts. This used to bother me, but now I focus on the areas of my body I do like and make sure I wear outfits that enhance those, instead of moaning and groaning about it. (Disclosure: sometimes I still moan and groan about it.)
When it comes to summer outfits that cover your arms but still help you stay cool, I've featured three different styles that are my favorite. They're my favorite because they are stylish, lightweight and the perfect alternatives to sleeveless tops.
The tops are: cold shoulder, boho, and chambray.
Cold Shoulder Tops
Now I know cold shoulder tops are not for everyone. One time a Facebook friend of mine went on quite the rant about these 'ridiculous' tops and how they make no sense. Each to their own, right? Not only do they make sense to me, I love them! I still have the benefit of what sleeveless tops offer (air flow) but they cover the bottom of my arms, an area a lot of women don't care for.
If you've never tried this style, I highly recommend heading to your favorite store and at least trying them on. You might walk out with one and you might not! But I've seen women of all ages wear these and they look fantastic.
Here are two summer outfit ideas featuring the cold shoulder top.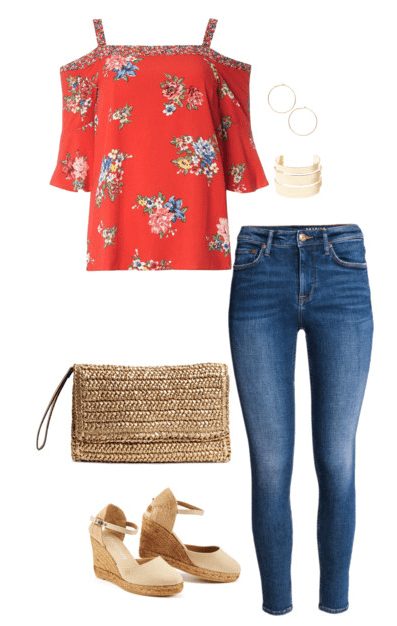 Outfit details: Red Floral cold shoulder top | Denim | Wedge Sandals | Straw Clutch | Bracelet | Earrings
Let's talk about H&M and Forever 21 for a minute, shall we? I've had readers ask me why in the world I link to these stores because they feel they're for the youngins and here's why…because I shop there. Yes, I've been in both stores a time or two and felt like the sales associates were looking at me like 'why are you here lady?', but I really just don't care. I like their denim for the stretch and price, and I like their accessories. I also love their online ordering. No weird looks from 19-year-old sales associates included. 😉
The wedge sandals I linked to above, I own and am so pleased with them. They don't come in half sizes, so I was a little worried when I ordered size 8, even though I wear 8 1/2, but they fit great. I wore them to a wedding recently and was in them for hours. They look really good with jeans, shorts, dresses, and skirts. Such a versatile shoe!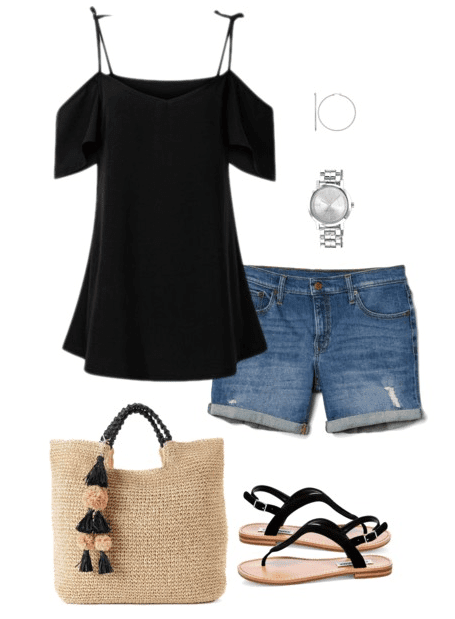 Outfit details: Black cold shoulder top (I LOVE this one) | Denim Shorts | Black Sandals | Straw Tote | Watch | Earrings
Boho Tops
This style of top is perfect for summer because it's flowy and allows some breeze to slip through. (Unlike a lot of cotton t-shirts.) When it comes to boho tops for the summer, I look for ones with 3/4 sleeves and save the long sleeve style for fall.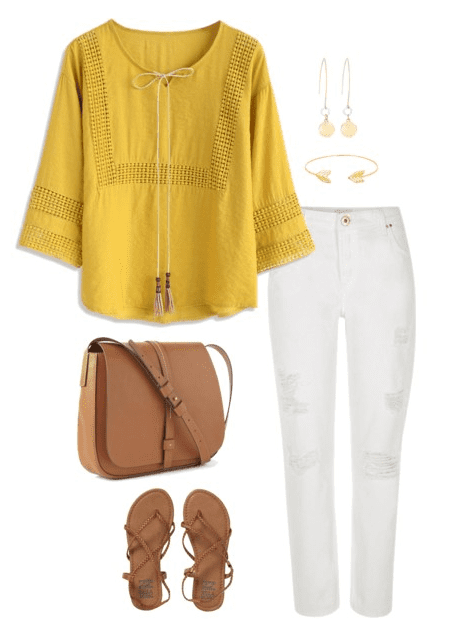 Outfit details: Boho Top | White Denim | Sandals | Handbag | Bracelet | Earrings
I really like the mustard top and white denim combo. In my summer trends for 2017 post, I shared how yellow is a big trend. It took me awhile to fully embrace this color, but after I did, it became a favorite.
When it comes to white denim, I know it's not for everyone. If you have babies and toddlers, your white jeans will surely see a stain before breakfast is even served. Now that my kids are older and out of that stage, I regularly wear white denim and yes, there are days they see a stain.
I keep saying I'm going to purchase a pair of Old Navy's Stay White Jeans that repel stains, but I haven't yet. A few of my friends rave about them though. If you're needing outfit ideas for your white jeans, or are wanting to purchase some, check out my post on how to wear white jeans in the summer.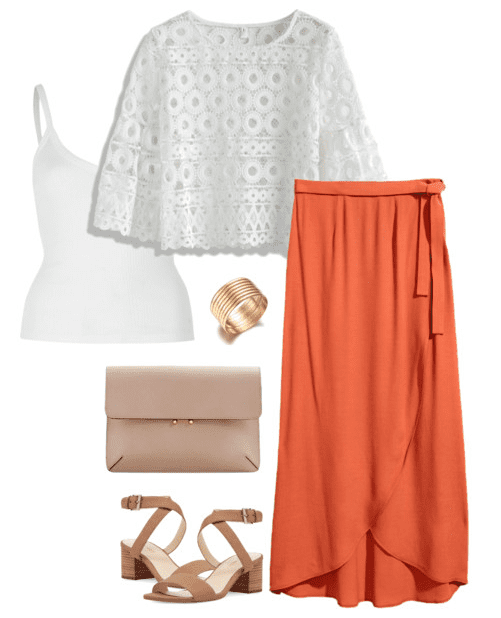 Outfit details:  White Boho Top | Wrap Skirt | Sandals | Handbag | Bracelet
The white boho top pictured above is so pretty! It's called the Circle of Love Top and features crochet lace. I decided to pair it up with a skirt for a different style of outfit, but this top would equally look perfect with jeans or shorts.
Chambray Top
Believe it or not, a chambray top is great for summer. As long as you pick the right one! Choose one that has tabbed sleeves or ones you can roll up easy. You also want it to be very lightweight.
I have a chambray top I've been wearing off and on all summer, even in hot temps and it's been such a great go-to piece. I wore it over a tank on a hike the other day, with shorts, denim, and even a skirt. It's a very versatile top that might just become your favorite this summer. (And it covers your arms!) 🙂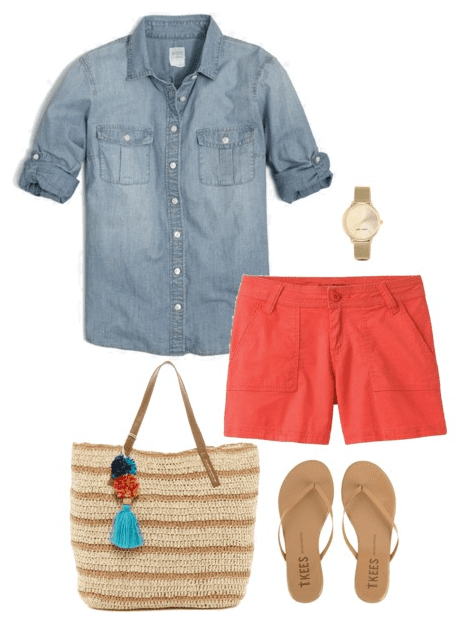 Outfit details: Chambray Top | Shorts | Flip Flops | Straw Tote | Watch
I really like how this chambray shirt looks with the orange shorts and striped tote. The shorts are from prAna, a brand I have come to love. The shirt is from J. Crew and most likely by the time this post publishes, it'll be sold out. If it is, here are a couple of alternatives: Classic Chambray Shirt and Cotton Chambray Top.
I hope you enjoyed these summer outfits that cover your arms! Please let me know what other types of outfits you'd like to see and I'll get to work. 🙂