*This is a guest post written by Hannah from Hello It's Hannah.
I've always loved makeup ever since I was a kid. The process, the way someone can take different products and put them together to create something totally unique. It all just fascinates me, and recently, I got the chance to try out some new products from Pixi Beauty.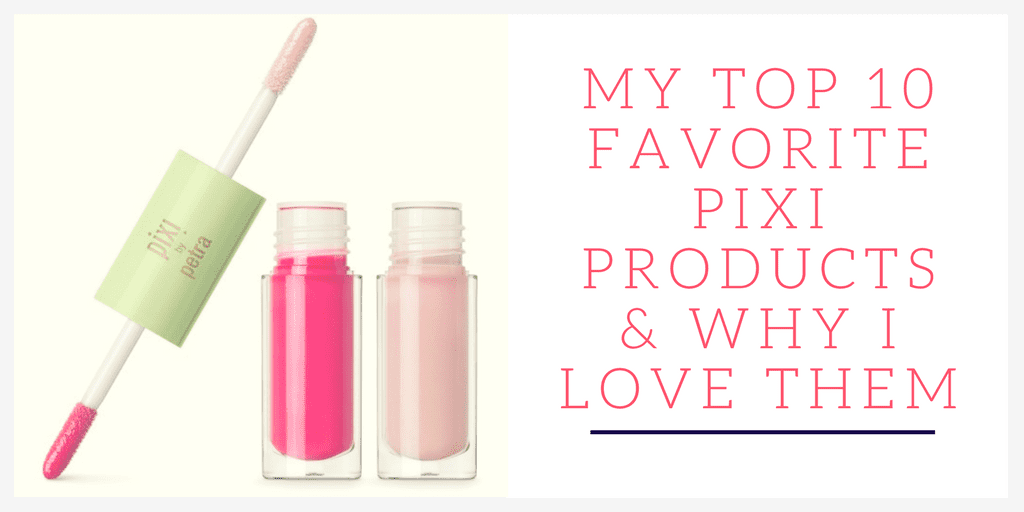 After trying out quite a few of their products, I can officially say they are my favorite makeup brand. Everything from the packaging of the makeup products to the results I got from using their skin care just really amazed me.
And today, I have ranked my favorite products from Pixi and why I love them so much. It's difficult to rank them because I love them all, but I'll try 🙂
10 Pixi Products and Why I Love Them
This blush was a collaboration with Aspyn Ovard, and I use it almost every day. It gives that perfect, healthy pink glow without too much color, and even adds a little bit of sparkle.
I have been looking for a good highlight and contour brush for a while now, and this one takes the cake. It's a dual end brush with a "strobe" side, a pointed brush, and a "sculpt" side, a fanned brush for contour. It does the trick perfectly and is incredibly soft.
I haven't gone a single day without using this palette in the past few weeks. It has three highlight colors and three contour colors. The variety is wonderful, from matte to shimmery contour, and gold to coral highlights. The gold highlight is my personal favorite, along with the light brown, shimmery contour. Definitely, a must have in my makeup collection.
This was one of the first products I got from Pixi, and it absolutely did not disappoint (and therefore began my obsession). It's another collaboration with Aspyn Ovard, and it's a single pearly highlight, the same size as the blush. I used it every day, a little bit on my cheeks and some on my cheekbones. So gorgeous.
This product is a twist on the classic Pixi Glow Tonic everyone loves so much (and for good reason). It's the same product, only in travel-friendly pads instead of a bottle. They come in a round container with a twist lid, perfect for on the road. Also, there's 60 of them in each container!
This cleanser is my skin's lifesaver. It has glycolic acid and aloe vera, two ingredients that help reduce acne breakouts. Not to mention, the GLOW (hence the term Glow Cleanser). My skin is left soft, smooth, and with a gorgeous healthy glow. Highly recommend this cleanser.
This is the best scrub/exfoliator I've ever used. It smells great and leaves my skin SO soft and free of dead skin. You just massage it on your face for 30 seconds, wash it off with warm water, and voila: the smoothest and softest skin.
I have never been able to get behind cheek tint. It usually either doesn't give enough color or gives way too much. But this one from Pixi is sheer but buildable, so you can add as much (or as little) color as you want. There are three shades: rosy, natural, and flushed. My favorite is rosy, a light red that gives the perfect amount of color to my cheeks
Honestly, all of Pixi's skincare blows me away, but this serum is my number one favorite from the line. Just two or three drops is enough to cover your whole face. You put it on before your moisturizer and leave it on overnight for a pretty, glowy skin the next morning. Also, it's a gentle exfoliator that gets rid of dead skin overnight. Amazing, right?
And finally, my favorite Pixi product: their new Tint + Gloss lippies. It's a dual sided product with a lip tint on one side, and a sheer gloss on the other. The gloss keeps the tint from drying out the lips, and either the tint or gloss can be worn alone. I've been wearing (Insert gloss here) for the past week, and it's my go to lippie now.
To shop the Pixi products above and more from the line, visit Target in store or online.